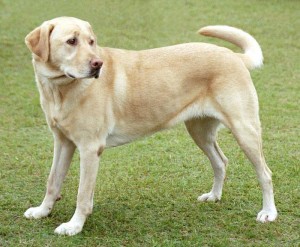 Unknown                 ***STOCK PHOTO***             Not Actual Dog
Breed or Mix: Yellow Labrador Retriever
Sex: Male, Age: Adult
Collar/Tags: Black (dark) collar
Sighted on: 08/25/2014 3:30 – 4:00pm
Area: Briarwood Crescent, ( at Briar Place and Bayview Road towards Bedford Highway), Halifax, NS
Additional Notes: August 25….3:30 – 4:00
There is a male yellow lab on the run in our neighbourhood, maybe 5-7 years of age, with collar…and very adept at evading people. He ran through Briar Place, onto Bayview. Another neighbour and I both tried to call, cajole, etc., and this savvy dude simply circumvented people…I'd even found him a 3rd time and stopped 75 feet below (on sidewalk)…savvy dog simply went around a house or two and out the other end. So, I suspect he's done this before and is "wise", but he still remains at danger. Last seen he was headed toward the Bedford Highway. I found nothing posted on Lost Dog Network – his owners may not be aware his is missing.
Will add that he appears to be very calm and collected. Being called, offered treats and approached were all taken in stride; he simply chose to take a route that evaded contact. Hoping this lovely boy is actually ON his way home, wherever that may be!
Please Contact: Please cross post and if you have any information contact: Animal Control by dialling 311 and selecting 5.