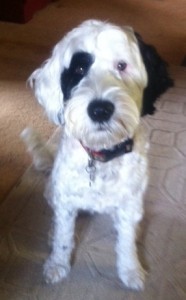 Harry
HAPPY ENDING: Home, Safe n' Sound!! Yippee!! Harry has been found and Dad is thrilled… as I'm sure is everyone else. Thanks so much for all the help and kindness. Thanks for caring and sharing too. (8.20.14 – 8.22.14)
UPDATE: Possible Sighting: 8.21.14 around 2:30 pm – Burger King, Thornhill Dr., heading SouthEast|East (Highfield Park Direction).
Breed or Mix: Portuguese Water Dog
Sex: Male, Age: 1 1/2 years
Collar/Tags: He wiggled out of his collar with the tag on it.
Lost on: 08/20/2014
Area: Burnside Soccer Field, 261 Commodore Drive, Dartmouth, Halifax Co., NS
Additional Notes: Harry is a white Portuguese Water Dog with black markings. He has been shaved but hair is a big shaggy. He answers to Harry. He has a microchip in his ear. He is a mild tempered dog. He wiggled out of his collar at a soccer game and headed for the path close to the field.
Please Contact:…