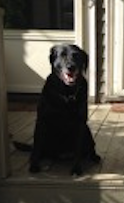 Ruby
HAPPY ENDING: Home, Safe n' Sound!! Yippee!! From the Owner: "Success, Success, Success!!" After being followed and chased by good intentioned folks, Ruby finally had some time to calm down and luckily for her, Dad was just around the corner searching and asking folks if they had seen her. Thanks to the kind folks that reported her sighting this morning, and all the folks that did their best. (7.21.14 –
UPDATE: Sighting: 7.21.14 – Oakland Rd. headed towards Beaufort Ave. – possibly went across to Rockcliff St/Ridgewood Dr Area.
Breed or Mix: Black Labrador Retriever
Sex: Female, Age: 10
Collar/Tags: Black leather collar. Dog bone tag with address on it.
Lost on: 07/21/2014
Area:  Cambridge st., Halifax, NS, NS
Additional Notes: Short and stocky black lab, grey around the muzzle. Loves food and dog treats and would be easily enticed with them. Really nice dog, may get over excited and jump.  DO NOT CHASE, CALL or WHISTLE. She is very scared now and will run. REPORT SIGHTINGS immediately. Thank you.
Please Contact: …