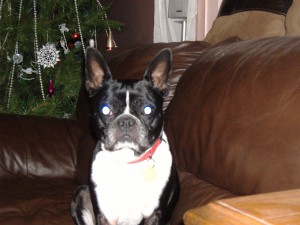 Mimi
HAPPY ENDING: Home, Safe n' Sound! We thank all the cared and shared. "we have found her thanks to all the neighbors that help out , lots of hours and walking paid off" (9.21.14 – 9.22.14)
Breed or Mix: Boston Terrier
Sex: Female, Age: 9 or 10 maybe older, we adopted her she is a rescue.
Collar/Tags: red collar.
Lost on: 06/22/2014
Area: Italy Cross, Lunenburg, NS
Additional Notes: Her name is MImi we adopted her , we think maybe 10.. she was very abused and will be scared.. she was at her nanny's and grampys and with in 5 mins was gone. we have looked everywhere .. Right now she has a small sty on her lower right eye, she does have a tattoo on her belly.. she is starting to get gray in her face.. We are very scared for her.. please help bring her home.
Please Contact: …