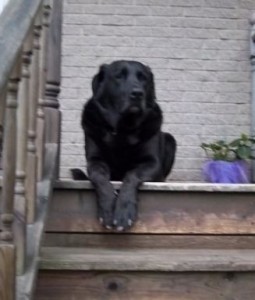 Bounder
HAPPY ENDING: Home, Safe n' Sound!! Yippee!! Thanks so much to the finder who got Bounder to safety and to all who cared and shared his info. Wonderful to hear he's now back home. (6.20.14 – 6.21.14)
Breed or Mix: Lab mix
Sex: Male, Age: 10
Collar/Tags: Turquoise collar, with squares of red and different colors in it. Sort of abstract.
Lost on: 06/20/2014
Area: Empress Court – Near MicMac Mall in Dartmouth, Dartmouth, Nova Scotia, NS
Additional Notes: He's a very large dog, but very gentle and easily frightened. He is afraid of rain, bad weather, spraying hoses and anything that makes a banging noise. Thunder and lightening terrify him.
Please Contact:…