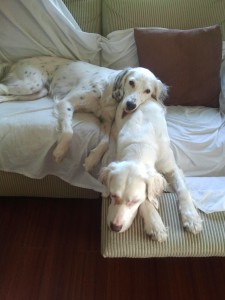 Mama and Millie
HAPPY ENDING: Home, Safe n' Sound!! Yeah!!  We thank all that cared and shared. "Safely home! Mom and I found them! She isn't on Facebook, but wants me to thank everyone for their concern!" (9.27.14 – 9.27.14)
Breed or Mix: English Setters
Sex: Female, Age: Mama is 3, Millie is 2
Collar/Tags: Both dogs are wearing patterned collars, tags from Weste Animal Hospital, home phone number and are microchipped.
Lost on: 06/27/2014
Area: Bellefontaine Rd. West Chezzetcook, Halifax, NS
Additional Notes: Mama is somewhat larger and is white with reddish brown spots, about 50 lbs. Millie is white with black spots, about 45 lbs. They will run until tired, usually staying in the woods. Millie is timid but has always stayed with her mother and will come with her. They bolted out the door and could have gone in any direction. Last time they made it across the 107 hwy and ended up in Lake Echo. I am very worried they have gone that way again.
Please Contact: ….