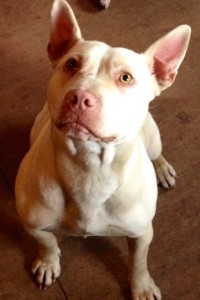 Mia
Breed or Mix: Amstaff
Sex: Female, Age: Young Adult (1 year to 1 1/2)
Collar/Tags: No tags and no collar.
Lost on: 03/16/2014
Area: 2212 lake George Rd, South Ohio, Yarmouth, NS
Additional Notes: White chest and rest of her is beige with red nose. She's very friendly but can be hyper. She left with her mom who is also a Amstaff. The Mother returned but she did not.
Please Contact: Please cross post and if you have any information contact: Laurie, laurie_muise@hotmail.com (902)748-0354
Cody @ 748-0346