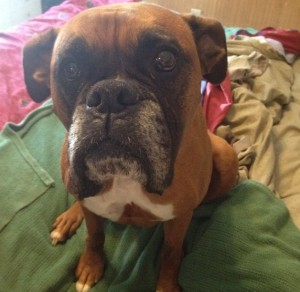 Tilly
Breed or Mix: Boxer
Sex: Female, Age: 9
Collar/Tags: Purple collar with a purple dog tag in the shape of a heart. The tag says her name on the front and on the back it has our house phone number.
Lost on: 03/02/2014
Area: 18 Cove Lane, Dartmouth, HRM, NS
Additional Notes: Tilly is a fawn colour with little white markings in her chest. Her muzzle is quite white and she has a docked tail; her ears are not docked. Her hips are starting to give out so she may be walking with a limp. Tilly is a little shy around strangers so if approached quickly she may run away. Tilly is all up to date on her shots and has a blue dog tag on her collar from the vet confirming she is vaccinated.
Please Contact: Please cross post and if you have any information contact: Taylor Lownds, Taylor.lownds@hotmail.com 902-877-8906
Our house phone number is 902-468-8055 and my father'a cell phone number is 902-497-1669.