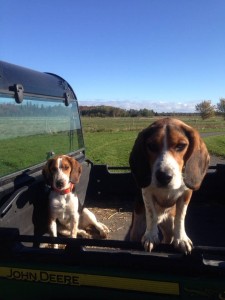 Bono and Edge
HAPPY ENDING: Home, Safe n' Sound!! Yeah!! From the Family: "Just want to let you know that both dogs were found this morning. All is well and thank you for your help." Thanks to all who cared and shared. Terrific! (3.27.14 – 3.28.14)
Breed or Mix: Beagles
Sex: Males, Age: Approximately one year old.
Collar/Tags: They are wearing tags/collars
Lost on: 03/27/2014
Area: Oakland Drive, Lower Onslow, Colchester, NS
Additional Notes: Two beagles. Hunting dogs, so they are used to going a fair distance, but they are very friendly and may come when called. They will probably stick together, hopefully. Escaped from their kennel shortly before lunch time today.
Please Contact: …