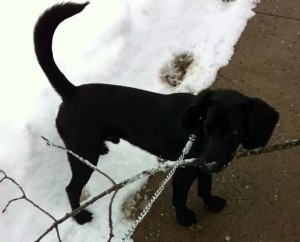 Django
HAPPY ENDING: Home, Safe n' Sound!! YIPPEE!!! Well, he's not home yet, but will be soon. He's safe with some wonderful caring folks. He was almost hit crossing a road, still trailing his leash – they were able to catch him and bring him to safety. They found out he was missing from a shared post. Just wonderful news. Big thank you to all those that cared and shared and even searched. (3.14.14 – 3.30.14)
UPDATE: 3.27.14 – Tuesday night last track location

Thursday late afternoon : loop made from South rawdon rd. To cross rd #2 to elliott rd. And out elliott rd.- no tracks! 

UPDATE: 3.28.14 – Sightings Map:
Breed or Mix: Rabbit Hound/ Black Lab Mix
Sex: Male, Age: 8 months
Collar/Tags: Thin black collar and a black leash
Lost on: 03/14/2014
Area: Cross Road, South Rawdon, Hants, NS
Additional Notes: 30 lbs
Black with white blaze on chest
Black thin collar and leash
Fuzzy ears and long nose
LAST SEEN Headed towards Elliot Rd. – towards the woods.
Please Contact: …