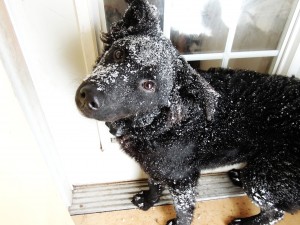 Sampson, Sammy
HAPPY ENDING: Home, Safe n' Sound! We thank all that cared and shared. YIPPEE "You guys are all so kind & wonderful for sharing. Thank you all so much !" (2.5.14 – 2.6.14)
Breed or Mix: Black Lab/Collie Mix
Sex: Male, Age: 9 Months Old
Collar/Tags: Blue collar with the chain part in the front (Martingale). Also wearing a red shock collar to a wireless fence system.
Lost on: 02/05/2014
Area: Main Street, Springhill, Cumberland, NS
Additional Notes: Sampson is a friendly dog with a thick fur all black fur coat. He's medium to a large size dog. He was last seen in our yard on Main Street, wearing two collars. He was wearing a red shock collar to a electric fence wireless system as well as a regular blue collar with a chain in the front part of it (Martingale). He is very friendly and loves people. He is a bit of a jumper, but means no harm. I appreciate all of your help, thank you!
Please Contact: …