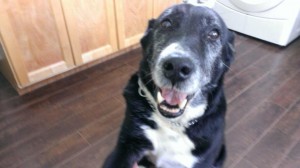 Unknown
HAPPY ENDING: Home, Safe n' Sound!! Yippee!! From the Finder: ""Socks" is now on his way home to his family! Thanks for all your help everyone."  Fantastic! Thanks to all who cared and shared. (2.6.14 – 2.7.14)
Breed or Mix: Lab/Border Collie Mix
Sex: Male, Age: Adult
Collar/Tags: Wearing a choke chain with no tags.
Found on: 02/06/2014
Area: Westmount, Sydney, Cape Breton, NS
Additional Notes: We found this dog in the Westmount area early this morning. (February 6th) He is black with grey whiskers around the mouth and white on his paws and the tip of his tail.
Please Contact:…