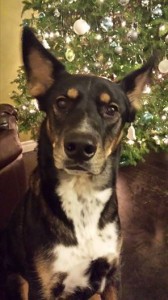 Fawna
HAPPY ENDING: Home, Safe n' Sound!! Yippee!! From the Owners: "We found her!!!! Thank you soooooo much for the help!!!  Wayyyyyyyyyy back in the middle of woods about 10 minutes or so from our house but about 30 minutes into the woods." (1.1.14 – 1.1.14)
Breed or Mix: German Shepard/Husky
Sex: Female, Age: 3
Collar/Tags: She has no collar or dog tags on her.
Lost on: 01/01/2014
Area:  Silver Road, West Northfield, Nova Scotia, NS
Additional Notes: Mixed colors. She is a medium/large dog weighing approximately 70 pounds. Name is Fawna. mix of German shepard and husky. She isn't wearing her collar or any dog tags at the moment. Mostly black with a white chest and brown markings throughout, brown eyebrows, white and brown spotted paws in front.
Please Contact: …