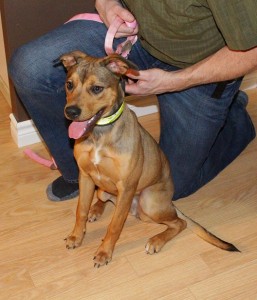 Unknown
HAPPY ENDING: Safe n' Sound!! Yeah!! A big thanks to the folks that found this dog, took it in, and kept it safe. No owners have come forward. She will be getting vet care that she needs, and a new home in the next while. Thank you for sharing. (1.17.14 – 1.21.14)
Breed or Mix: Lab/Shep Mix?
Sex: Female, Age: Young
Collar/Tags: Reflective, yellow collar with some damage- fraying.
Lost on: 01/17/2014
Area: Douglas Rd, Greenhill, Westville, Pictou, NS
Additional Notes: FOUND DOG on Douglas Rd, Greenhill, January 17th. Was seen wandering in area recently. She is very friendly and appears quite young. Was found with reflective collar as shown. She was very skittish and hungry, but quite comfortable indoors and with other dogs. Please contact us if this is your dog or if you know who she may belong to.
Please Contact: Please cross post and if you have any information contact: Animal Control – 485-8640