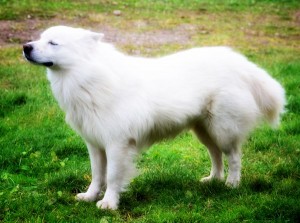 George or Litl' George
Breed or Mix: Samoyed Husky
Sex: Male, Age: 3 1/2 yrs old
Collar/Tags: None
Lost on: 11/20/2013
Area: Chemin du Lac, Grand Etang, (near Cheticamp), Inverness Co., NS
Additional Notes: George is very VERY friendly and loves people. He always use to wait for the owner when let loose to run on his walk but on Nov 20th.. he sniffed the air.. mouth open and took off.
George was not neutered. Not smart.. we know.
Please Contact: Please cross post and if you have any information contact:  Billy (by phone) Yvette by email , ymuise@yahoo.com 902 224 1378  Claudia 902 224-1348 Yvette 902 224 2006  Claudia Roach is reachable by Facebook as well.