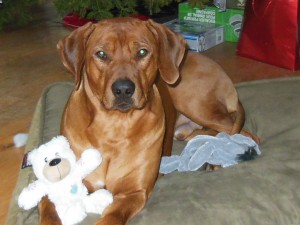 Broc
RAINBOW BRIDGE: Passed Away. From the Owners: "Thank you for the info. We found him, but but he had been hit by a train."  He was so young and healthy, it just breaks my heart to share this news.  We all send our heartfelt condolences to Broc's family.  We hope that in time, the tragedy of this accident is wiped away by fond memories of a beautiful red boy who loved his stuffed toys. I didn't know Broc,  but his photograph says a lot.  We are thinking of his family at this very difficult time. (11.15.13 – 11.16.13)
Breed or Mix: Rhodesian Ridgeback
Sex: Male, Age: 2.5
Collar/Tags: No collar or tags. Wearing a Orange Dog Vest when last seen.
Lost on: 11/15/2013
Area:  River Court ((end of Halls Road, by the river), Enfield, Halifax, NS
Additional Notes: He is a very timid dog. He is bigger built and in good shape. His fur is short and redish brown and has brown eyes. He was last seen wearing a orange dog vest with yellow reflectors on the side. He moves (jumps/runs) like a deer in the woods… so please keep an eye out for him.
Thank you in advance for your help.
Please Contact: …