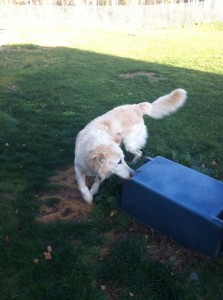 Unknown
HAPPY ENDING: Home, Safe n' Sound!! Yippee!! From the Finders: "Luke or Lucas has found his home!! His owner contacted me this morning after seeing a shared post late lastnight! As I was driving him home.. he started to cry and almost jumped out the window to run to this owner when he saw him. He was quite a distance from home! Thanks to every one who shared!! He's happy to be reunited with his wonderful owner!"  Thanks to the finder for keeping him safe and to all who took a moment to share his info…it got him home!! Yeah!!! (10.31.13 – 11.1.13)
Breed or Mix: Collie/Shepherd Mix
Sex: Male, Age: Adult
Collar/Tags: Red collar that has been attached to something.
Lost on: 10/31/2013
Area: Lingan Road, New Waterford, Cape Breton, NS
Additional Notes: We found this dog in our yard at approximately 4pm on Oct. 31. He's white with long fluffy fur. He has scrapes on his nose. Also, he appears to be in the middle of shedding a coat. He has a wonderful temperament and knows "Sit" and "Paw". He has a red collar with a metal piece that must have been attached to something. He may have been afraid of the fireworks and ran away or he could have been running for days. As far as we can tell. Also, he was very submissive to our male dogs.
Please Contact: …