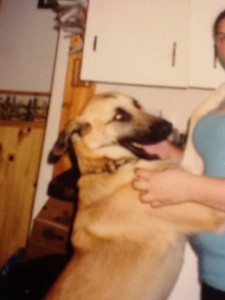 Chopper
UPDATE: 12.6.13 – Great news story on Choppers rescue and health:  http://atlantic.ctvnews.ca/video?clipId=1054996.

HAPPY ENDING: Home, Safe.  From Family Friends: "Chopper has been found he is on his way to the vets as he is hurt don't no much about it but I will keep you up dated"  We are thrilled that Chopper has been found and are hoping for the very best news from the Vets.  Sending healing thoughts from all of us.  (11.09.13 – 11.29.13)

CHRISTMAS MIRACLE!! How Chopper was Found: From the Family:    "Hi (AnneM), wanted to give you an update on chopper. A nice man spotted him 1 mile from his home frozen up to his neck in a pool of water in the ditch. With the help of the owners son, they got him out. Rushed him to the vet in Truro, The doctor said one more night his body temperature would have dropped too low and he wouldn't have made it. Chopper was hit by a vehicle probably on the first day of going missing. He has to have his back leg amputated, but first he has to get stronger and hydrated. He has lost a lot of weight, Poor boy has had a rough go of it!! His mom called me at 9pm, and said his body temp is almost back to normal. So with the Grace of God, Chopper will do fine!! His mom and dad said that this is the best Christmas present EVER! A big thank you to the Nova Scotia Lost dog Network for all your help and caring! Thanks to all who shared and for their heartfelt comments!! God Bless you all. Yours truly, from Annette Croft, Gordon and Hazel Henley, and Chopper!!"  No words can describe how extraordinary this story is and how Choppers will to survive 20 days in that condition is amazing. We wish him a speedy recovery and all our thoughts and prayers go out to Chopper and his family.
Breed or Mix: Lab and Shepherd Mix
Sex: Male, Age: 6 years old
Collar/Tags: Flea collar
Lost on: 11/09/2013
Area: Sheet Harbor Road, Upper Musquodoboit, Halifax, NS
Additional Notes: Chopper took off when he heard fireworks on Saturday Nov 9, 2013, shortly after supper. He is a very friendly dog, and loves people. He is sadly missed by his family who have been looking for him day and night. We would greatly appreciate any help from the Nova Scotia Lost Dog Network. Thank you!
Please Contact: …