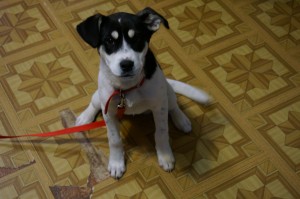 Unknown
HAPPY ENDING: Home, Safe n' Sound!! Thanks to all the folks that cared and shared. This cutie pie has a new home now and a bright future. Thanks to all. (11.1.13 – 11.13.13)
Breed or Mix: Husky/Terrier Mix
Sex: Female, Age: Puppy – Less than 6 months (still has her puppy teeth).
Collar/Tags: No collar or tags.
Lost on: 11/01/2013
Area: Glace Bay Industrial Park, Hwy 255, Glace Bay, Cape Breton Co., NS (Near the site of the old Heavy Water Plant, between Donkin and Glace Bay)
Additional Notes: The dog is very well taken care of (trimmed nails, very clean ears, healthy teeth) and is already house trained … does not seem like a true stray, or an abandonment. Found the day after Halloween – always a prime time for dogs getting scared by fireworks the night before and getting lost.
Please Contact: …