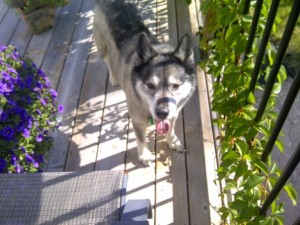 Rivers
HAPPY ENDING: Home; Safe N'Sound! Wah Hooo We thank all that cared to share. "I couldn't be a happier lady, my dog is home safe and sound! A very kind lady (Margaret) saw my post on your Facebook and your site and called me today with my Rivers. Thank you again!" (9.23.13-9.23.13)
Breed or Mix: Husky/German Shephard
Sex: Female, Age: 13 – Adult
Collar/Tags: Red Nylon Collar with compact metal tube containing our contact information attached to her collar.
Lost on: 09/21/2013
Area: Pondicherry Cres., Dartmouth, NS
Additional Notes: She is a Husky; in her breed to run, and typically take off when approached by unknown people. She is of medium build, smooth Husky like coat.
Please Contact: …