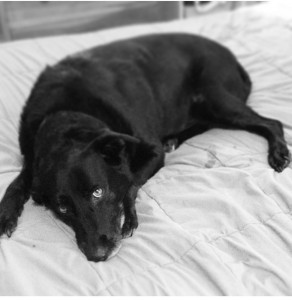 Maggie
HAPPY ENDING: Home; Safe N' Sound. We thank all that cared and shared and our members that saw her on the HRM website. "She was at the pound and is home with us. So grateful for everyone's help!" Great job! (9.22.13-9.23.13)
Breed or Mix: Mostly black lab but has a narrower nose then most.
Sex: Female, Age: almost 9 years old
Collar/Tags: She does not have her collar on
Lost on: 09/22/2013
Area:  Lindenwood Terrace, Dartmouth, NS, NS
Additional Notes: Maggie is a sweet tempered dog who has a lot of energy for a 9 year old. She has a greying chin and belly. She rubs her ears a lot and her nails always are too long as she is only angry with you if you try to clip her nails or rinse her ears. She is about 70+ pounds and is in good health. She knows lots of commands and is well behaved at the dinner table. She was on our back deck and we did not realize the gate was open. She was gone for about 30 minutes before we realized she had gotten out. This had happened before but she has always returned within 45 minutes on her own. I am certain someone must have taken her in or picked her up as she would have returned home otherwise. Please help! She has been a part of our family since she was 2 months old.
Please Contact: …