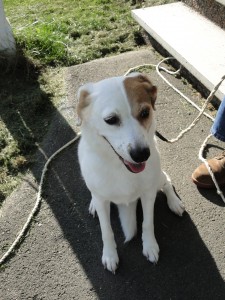 Unknown
HAPPY ENDING: Home; Safe N'Sound. YEAH We thank all that cared to share! And we thank our member that alerted the owner. "the owners just picked up the dog.. she was 10 yrs old.. the owners were ecstatic and the dog was excited to see them" (9.20.13 – 9.20.13)
Breed or Mix: mix breed.. brown and white face. spotted ears. big black spot on its back..
Sex: Female, Age: maybe 1 year.. very young and friendly and nervous
Collar/Tags: no collar when found
Lost on: 09/20/2013
Area: Mee road, Charles street, Kentville, kings, NS
Additional Notes: we found this dog running down Mee Road in Kentville, No collar, young dog ..friendly.. we took her home on charles street,. gave her a flea treatment. very friendly with cats and dogs. We will keep her here until owner is found.
Please Contact: …