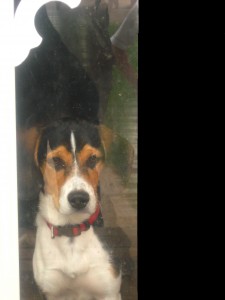 Spencer George
Breed or Mix: Beagle
Sex: Male, Age: 3 years
Collar/Tags: Collar not on, white bandage wrap on front left leg. Leg had been shaved for vet visit and had become sunburned, so we had it wrapped up.
Lost on: 07/11/2012
Area: 127 Knol Lane, Oxford, Cumberland, NS
Additional Notes: Spencer is a 3 year old male beagle missing since july of 2012 from the Oxford Area. As per his picture he has a lot of black on him. At the time he went missing the most identiying thing would have been that he had just recently had his front left leg shaved from a vet visit and had a bandage on it. He had recently beened quilled. He didn't have his collar on when he went missing. He didn't often bark except when someone had a hat on. We live right off the highway at the Oxford exit in nova scotia. He often was seen running in our fields adjacent to the highway. As he is very friendly it's entirely possible that he would get into someone's car. Perhaps someone found him and didn't see a collar and assumed he was a stray.. however he was very healthy and sleek, not over or underweight. We searched for days along all of the roadways and never found any trace of any kind that he met with an accident. Even if he did any information at all concerning his possible whereabouts would be appreciated. He is much missed by his sister, Belle, and his children miss and love him.
Please Contact: Please cross post and if you have any information contact: jeannie knol, mjknol@hotmail.com 1-902-694-6257
1-902-694-6250 darren knol
1-902-447-2348 cindy
1-902-686-3390 mary esther