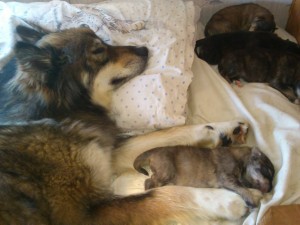 Daisy
Breed or Mix: Malamute/Shepherd Mix
Sex: Female, Age: 3
Collar/Tags: May have red collar
Lost on: 08/16/2013
Area: 17 Glooscap drive, Truro, Colchester, NS
Additional Notes: Markings like a German shepherd but long malamute hair.
Very sweet temperament, loves kids.
We just moved here a few weeks ago, our son was very badly injured last week and she was being cared for by my Mom but when my husband was transporting her to our new home she escaped.
We are still in the hospital with our son and we are all very sad to have lost her. We brought her from Alberta and love her very much. Please contact if you see her, she comes her name, Daisy and the command come or treat.
Please Contact: Please cross post and if you have any information contact: Naomi and Josh, naomiandjoshcarter@gmail.com 403-998-4075
403-399-7929