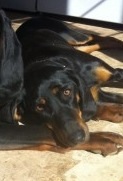 Mickey
HAPPY ENDING: Home, Safe n' Sound!! Yippee!! From the Family: "Mickey Has Been Found just a minute ago! Thank you everyone for all the help and all the shares!"  Just terrific news, Yeah!! (8.13.13 – 8.14.13)
Breed or Mix: Coon Hound (Black and Tan)
Sex: Female, Age: 1
Collar/Tags: Pink Camo Remington Collar, Pink tag with both phone numbers to be contacted on,butterfly on one side of the tag.
Lost on: 08/13/2013
Area: Monk Road, Lunenburg County, NS
Additional Notes: Her name is Mickey, She went missing sometime today, she was tied out when we left this morning, when one of us got home from work she was gone rope and all, either she got the knots out somehow or someone has taken her…
She is Black and Tan, pure Bred Coon hound, Wearing a Pink Camo Collar, and a pink tag with butterfly and contact info. She could be timid of some people.
Please Contact: …