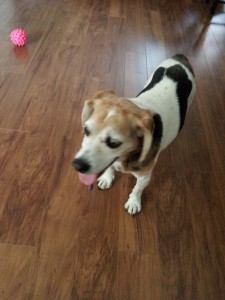 Unknown
HAPPY ENDING: Home, Safe n' Sound!! Yippee!!! From the Finder: "The dog's owner was found and I just dropped her off a few minutes ago. Thank you for your help and for all the good work you do."  Thanks for taking such good care of this cutie.  Well done. (8.1.13 – 8.4.13)
Breed or Mix: Beagle
Sex: Female, Age: Senior
Collar/Tags: Purple collar, no tags
Lost on: 08/01/2013
Area: Sherwood Drive, Wolfville, Kings, NS
Additional Notes: FOUND WANDERING and barking in the middle of the night. This is a lovely, friendly, well behaved little Beagle. I found her after going out at 1:00 AM to investigate what sounded like a dog in distress. Her collar was wet so it is believed she was out at least two or three days when it last rained. She seemed quite disoriented and lost. Took her home with me and bought her some dog food and fed her and she settled down for the night, hopping in bed with me.
This little dog has some health issues. I took her to the vet the next morning and had a massive tumor examined along with some smaller ones. She was also found to have cataracts on both eyes, and arthritis in her back legs. The vet estimated she's between 12 and 15 years of age.
She is an extremely loving dog and behaves perfectly in the house and in the car. I'm sure she has, or had at one time, an owner who loved her very much. If that is no longer the case (ie. owner died, etc.) and someone else was looking after her who may not want to keep her, please get in touch with me anyway as I would be happy to keep her if she is not claimed.
She's a very clever little dog and is responding to the name I've been calling her, Flip, since I had to call her something. Hoping a loving owner who is missing her, as she deserves, comes forward to claim her.
Please Contact: …