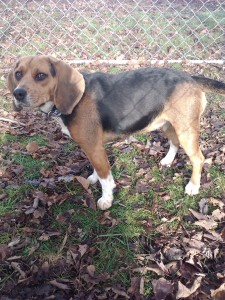 Ruby
HAPPY ENDING: Home, Safe n' Sound!! Yippeeee!! From the Owner: "Ruby is home Safe And Sound!!!!!!!!!!!! We are so very very thrilled to have our little girl back!!! Thank you so much for all of your help!!!!"  (7.13.13 – 7.17.13)
Breed or Mix: Beagle
Sex: Female, Age: 4
Collar/Tags: she had a brown leather collar, and the tag that was attached to her collar was that of our past german sheppard.
Lost on: 07/13/2013
Area: Crouse Settlement Road, Italy Cross, Lunenburg, NS
Additional Notes: Ruby is a loveable dog, she is very energetic. Her coat is sleek, short and soft. She is black across the top, right through her tail, except for a little white which is at the point of her tail. She has four white feet, with little brown freckles on them. her face is all brown, and under her chin, right back through her belly is white.
Please Contact: …