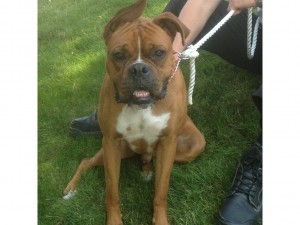 Unknown
HAPPY ENDING: Home, Safe n' Sound!! Yippee!!  Thanks to the kind folks who took the time to catch this dog and bring it to safety, it's now back home where it belongs. Yippee!! Thanks to all who cared and shared. (7.17.13 – 7.18.13)
Breed or Mix: Boxer, looks pure breed
Sex: Male, Age: between 2-4 years old
Collar/Tags: no tag, orange collar, rope and chain mix
Found on: 07/17/2013
Area:  Joseph Howe Drive, Near the Rotary, Halifax, NS
Additional Notes: Found this adorable og in front of the building roughly 20 minutes ago.
He appears in good health, but has a small fresh cut on his bottom lip.
Animal control is on the way to pick him up. I will update as soon as we know which location they are taking him to exactly.
He is very friendly with both guys and girls alike. He is a young adult dog an is full of energy.
Please Contact: …