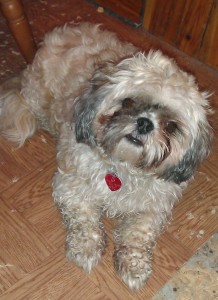 Found Dog
HAPPY ENDING: Home, Safe n' Sound! We thank the finder for keeping her safe and to all that cared to share. "OWNER FOUND!!! she's gong home today. thank you NSLD Network" (6.22.13-6.23.13)
Breed or Mix: Shitzue
Sex: Female, Age: 7
Collar/Tags: 2012 Cobiquid Vet Hospital Rabies tag #00738
Found on: 06/22/2013
Area: Corner Beaverbank Rd, and Boxwood Dr., , Annapolis, NS
Additional Notes: i found this lovely lady last night just after 10 pm, on the corner of Beaverbank and Boxwood, about to get squashed. i went around Boxwood, even left my contact info with people i knew there, trying to find her home. but she's lost. TO HER OWNERS, she is safe, and unharmed, but she wants to come home.
She is a Shih tzu (i'm pretty sure) very frindly, recently bathed cause she smells really nice. Wearing a Black Collar with white bones with a Cobiquid Vet hospital 2012 Rabies …. Cobiquid is closed, so i can't get her home to you that way, and she's not registered with the get me home service on the back of her tag.
please, everyone help me find her home. i'm sure she's missed. pass this on and contact me here. i will be checking in hourly for updates. thank you. for your help.
Please Contact: …