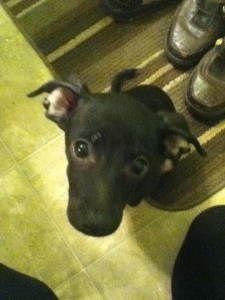 Zac
HAPPY ENDING: Home Safe!!! WooWhoo… He will be "Sound" after his leg heals. From the Owners: "ZAC WAS FOUND!!!!!! He's home now!!!!! We r forever grateful to who found him !!!!!! He's really skinny n has a broken leg buys he's home! Thank u to everyone for all the help n support !!!!"  (5.1.13 – 5.5.13)
Breed or Mix: Chihuahua Mix
Sex: Male, Age: 8 Months
Collar/Tags: Normally wears a harness which he slipped out of, no collar.
Lost on: 05/01/2013
Area: Terrace Street, Sydney, Cape Breton, NS
Additional Notes: Zac is a Chihuahua mix with longer legs. He might be seen with a wiener dog mix named Lady. He normally wears a harness but he slipped out of it and has no collar on.
Please Contact: …