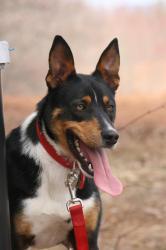 Clifford
HAPPY ENDING: Home, Safe n' Sound!! Yippee!! All we know is that Clifford is found and home safe.  We can assume there is a happy, happy family who thanks all that helped and shared his info… Just terrific! (3.16.13 – 3.18.13)
UPDATE: 3.18.13 – Latest sighting:  today (Monday, March 18, 2013) @ 11am Corner of Palmer Drive and Pine Ridge!!
Breed or Mix: Kelpie
Sex: Male, Age: Adult
Collar/Tags: green collar…microchip
Lost on: 03/16/2013
Area: Duck Pond, Kingston, Kings County, NS
Additional Notes: Bolted from car at superstore. Last seen around the duck pond in Kingston. Very timid.
Please Contact:…