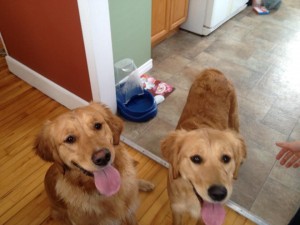 Unknown
HAPPY ENDING: Home, Safe n' Sound!! WAH HOOO! The owner was located, and was very relieved to have their dogs back. We thank those who shared and we thank the finders for keeping these dogs safe until they could be reunited. (4.1/13-4.1.13)
Breed or Mix: Golden Retrievers
Sex: Male/Female  Age: Young Adults
Collar/Tags: FOUND male and female golden retrievers,both wearing collars,Female has a pink Harley Davidson collar male has a black collar. Both collars have what looks loke an electric fence transmitter attached.
Lost on: 03/01/2013
Area:   Coxheath Road, Sydney, Nova Scotia, NS
Additional Notes: Very friendly and get along well with our family and our own dog. I looked in their ears for tattoos but their are none. We called all the radio stations,and the SPCA but we will keep them here with us for a day or two.
Please Contact: …