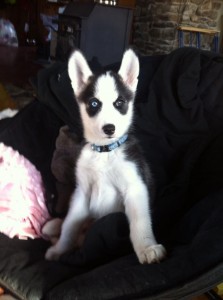 Huttser
HAPPY ENDING: Home, Safe n' Sound!! NSLDN Thanks all who shared. "found on a neighbour's deck! He saw Huttser here on the site and called us thank you so much for your help!" (2.17.13 -2.18.13)
Breed or Mix: Siberian Husky
Sex: Male, Age: 12 weeks old
Collar/Tags: Blue and White Reflector Collar with Bones on it.
Lost on: 02/17/2013
Area: Partridge Lane, Lapland, Nova Scotia, 111 Partridge Lane, Lapland, NS
Additional Notes: Huttser is a short hair, black and white siberian husky. He has black going around both his eyes, one eye is blue, the other brown. He loves people and has a great temperament.
Please Contact:…