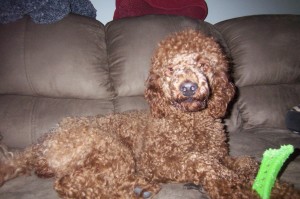 Holly
HAPPY ENDING: Home, Safe n' Sound!! Yippee!! From the Owner: "holly has been found and at the pound in burnside cold wet and shivering,we are getting ready to go pick her up,she was found in a backyard on macdonald street near the armdale rotary ,the owner of the house called in to report it,thank you all so much for your help,also she is microchipped and when scanned they couldnt find the chip,i know shes chipped because when we bought her i had it checked at the vet,so id would advice other dog owners whos dogs are chipped to have them checked every once in awhile,again ty all for your help"  (Chips can sometimes slip down a shoulder and disappear so always get your dog scanned for their chip at their yearly checkup.) Thanks to all who helped during Holly's Big Adventure… just awesome! (2.5.13 – 2.6.13)
Breed or Mix: Red (brown to some) Standard Poodle
Sex: Female, Age: ~ 2 years old
Collar/Tags: no collar but has Microchip
Lost on: 02/05/2013
Area: Green St., Apt 2, Halifax, NS
Additional Notes: She is a red Standard Poodle, so her hair is poodle curly and she has a long tail (longer than an average poodle). She was in the yard on a leash and got spooked, got out of her leash and collar and just ran. We ran for several hours chasing her all over downtown Halifax but it was just like she didn't even hear us as she is very afraid.
She does have a microchip.
Went missing around 1:30 this afternoon. Animal Control and the Halifax Police have also been searching for her
Her name is Holly.
She was last seen on Windsor Street around 4:00 and then near the Armdale Rotary at traffic hour heading back up Quinpool.  She may have been sighted after that near Queen and Morris St.'s.
Please Contact: …