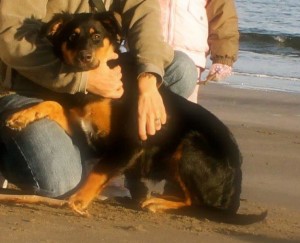 Harley
HAPPY ENDING: Home, Safe n' Sound!! Yippee!! Harley has been found, fantastic!! Thanks to all who cared and shared. (2.20.13 – 2.27.13)
Breed or Mix: Doberman,/Duck Troller Mix, black-and-brown – about 40 lbs
Sex: Female, Age: 8 months
Collar/Tags: She is wearing a pink collar with Harley Davidson on it. It has silver decals. She has on a pink name tag with her name.
Lost on: 02/20/2013
Area: Fiske Road, Hemford, Lunenburg Co., NS
Additional Notes: A REWARD is offered for her safe return. She is medium hair, black with brown markings on her face, chest and paws. She is really soft under her neck. She was fixed in December, so she does still have the scar on her underside. She was visiting in Hemford, while our family is away, so she is not familiar with the area. She is a very sweet girl and enjoys cuddling. She does bark though.
Please Contact:…