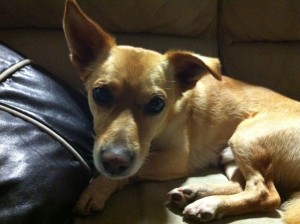 What do you think lead to Remy being Home, Safe n' Sound?
It was combination of posters and your site.
A couple spotted him last night in their parking lot and this morning and thanks to your website contacted me which got us back on the right trail.
Where did he spend the night?
We found where he spent the night, a nice little indent of him in a pile of leaves in the same place.
What was your plan then?
So a few hours after that spotting I was putting up posters in a major way around that area.
This lead to another sighting being reported:
I got a call from someone a block away that had just spotted him and called me thanks to the posters.
What happened when you arrived?
He was I saw him and he ran!
How did you proceed?
Thank god for the SNOW!!!!! I followed his tracks to a closed in back yard. and was able to use bags of soil they had to block the gap (so he couldn't escape).
How did you approach him this time?
I got down on the ground and let him come to me. And a nice couple that had spotted me let me into their apartment to get him warm and get him calm before we tried to go home.
So you read the links we provided?
The getting low thing I read from your site and it helped – it honestly did. And he ran from my wife and I a total of 4 times while he was gone. It really hurts when he did it, but I understand now that it wasn't because he hates us or anything like that, he had got free, he was excited and scared and nervous, and not because he doesn't feel loved, its just his instinct. Soon as I got low though he get low as well and kinda crawled toward me and then attacked my face with his tongue. But the more excited we acted at first, when we couldn't contain ourselves when seeing him,  just scared him off. You really do have to control your own instinct in order to theirs.
Thank you Katie and Tom for sharing, we are so happy that Remy is home where he belongs.