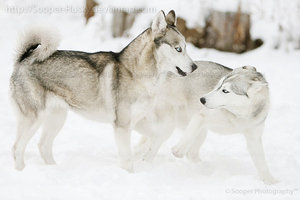 Snowball and Binky               ***STOCK PHOTO***  Not Actual Dogs
HAPPY ENDING: Home, Safe n' Sound!! Yippee!! These two were found just as we were working on getting them posted, so I thought we all could use a Happy Ending and decided to share.  Thanks! (1.23.13 – 1.23.13)
Breed:  Husky, white
Sex:  1 Male/1 Female  Age: Adult
Collar/Tags/Chip:  ??
Lost on:  Jan. 23, 2013
Area:  Centreville Area, Kings Co., NS
Additional Info:  2 white huskey dogs missing in the Centreville area, one has a gray strip down his back, one male on female. Getting worried because it is very cold and getting dark. If anyone has friends in the Centreville area, can you please share my post. Really would love to find them tonight.
Contact Info:  …