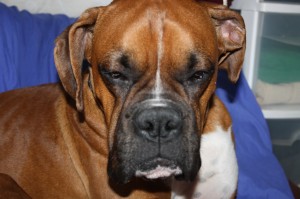 Brutus
HAPPY ENDING: Home, Safe n' Sound!!! YIPPEEEEE!!! From the Owners: "Brutus is home!!!!!! He just came to the door about 10 minutes ago. Really skinny, feet are fine but had to chew through a snare to get home! He had the snare around his neck! Poor puppy!"  Thank you to all who cared and shared. Fantastic!! (1.26.13 – 1.29.13)
Breed or Mix: Boxer
Sex: Male, Age: 1 year old
Collar/Tags: Dark grey, cloth with The Dog Whisperer logo on it.
Lost on: 01/26/2013
Area:  John Grant Back Road, , HRM, NS
Additional Notes: Brutus is a very lovable dog. He loves kids and cats and gets along with other dogs. He is very friendly and responds to being called even by a whistle. He was in our yard at 10 am Saturday morning and was last seen chasing something(assuming the neighbor's dog) into the back woods where he likes to play. He has a nice white crest on his chest which wraps half way around his neck, his face (muzzle) is black and he has one dew claw that is black the rest of his nails are white. His eyes are a little saggy on the bottom, and he looks like he has a slight underbite. Please, if you have seen him, we miss him so much!!!!
Please Contact: …