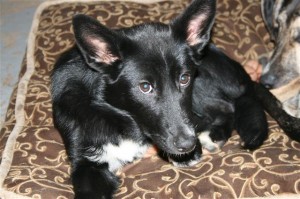 Abby
HAPPY ENDING: Home, Safe n' Sound!! Yippee!! From the Owner: "So happy to say Abby is back home safe and sound.  Thank you to all the caring people who helped look for her."  Thanks to the overwhelming response to help this little dog.  Wonderful!! (1.10.13 – 1.11.13)
Breed or Mix: Lab/Border Collie/Husky Mix
Sex: Female, Age: puppy – appro. 4 months
Collar/Tags: She was wearing a pink harness with a black leash attached.
Lost on: 01/10/2013
Area: Chandler Drive/Johnson Crescent area of Lower Sackville, Halifax, NS
Additional Notes: She is black with white markings and white paws. She is a rescue and was adopted on Tuesday by her new owners. She is VERY TIMID and VERY SHY. Not yet familiar with her new area. A family member took her out for a pee tonight around 8pm, he slipped and fell on ice in the yard and Abby took off running.
Please Contact: …