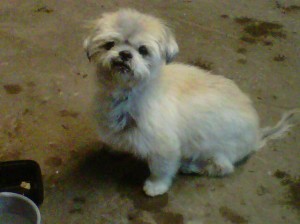 Unknown
HAPPY ENDING: Home, Safe n' Sound!! Yippee!! – Coco is back where he belongs – Thank you for your help Shannon.  (12.23.12 -12.24.12)
Breed or Mix: Not sure…looks like shitzu
Sex: Male, Age: Elderly
Collar/Tags: Dabba Do collar
Lost on: 12/23/2012
Area: Found on Norman Blvd, Hammonds Plains, Nova Scotia, NS
Additional Notes: We found a lost dog wandering in our yard this afternoon. He appears to be elderly, mostly blind and deaf. He is a sandy color and has collar on.
He has a bald spot just above his tail and appears to have recently been groomed.
We have him safe in our garage for the time being, but are hoping to reunite him with his family for christmas.
Please Contact: …