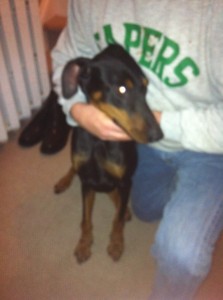 Unknown
HAPPY ENDING: Safe n' Sound!!  This cutie went to Animal Control and if the owners were not found he would have been sent to the SPCA and put up for adoption.  (12.8.12 – 12.9.12)
Breed or Mix:  Doberman pup
Sex: Male, Age: approximately 6 months
Collar/Tags: no tags or collar.
Lost on: 12/08/2012
Area: Shore Road, Sydney Mines, Cape Breton, NS
Additional Notes: He is tall and thin but not emaciated. He was hungry, afraid and very hyper but has adjusted reasonably well. Will report to SPCA at 8am tomorrow.  His coat is very smooth. He likes to play so he is definitely someone's pet. He is friendly and is adjusting to playing with our dog. He is good with one of our cats but the cats have disappeared from sight for awhile. 🙂 He follows one of my sons everywhere he goes in our home. FRIENDLY.  NO idea how he became lost but I am sure he is comfortable right now.
Owners please be prepared to prove ownership.
Please Contact: please cross post and if you have any information regarding his home contact:  Animal Services: Cape Breton SPCA : 539-7722