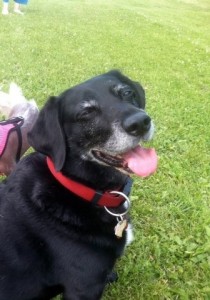 Jack
Breed or Mix: Lab/beagle
Sex: Male, Age: 10
Collar/Tags: Red collar seen in picture, name tag, city of Dieppe dog tag
Lost on: 11/06/2012
Area: Seaview Lookoff Park in the North End of Halifax , , Halifax , NS
Additional Notes: Jack is a SUPER friendly medium sized dog. He is a senior dog with a greying face and a white diamond patch on his chest. He weighs about 40 lbs and his tail is always wagging.
He looks like a lab but acts like a beagle as he gets on a scent and follows it.
He is very vocal, always talking and "whining" happy little noises.
Like I said, he is very friendly, any person he sees or dog he wants to go and greet and get pats. Amazing dog who is very much missed! Please bring Jack home
Thank you!
Please Contact: Please cross post and if you have any information call: Rachel at  902 579 0466 or Alison at 902 495 8145