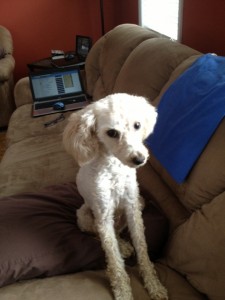 Unknown
HAPPY ENDING: Home, Safe n' Sound!! Yeah!!  The finder was contacted by the owner of Asia on another community forum and the owner has picked up their dog from HBCP. Home n' Safe (11.3.12 – 11.4.12)
Breed or Mix: mini poodle
Sex: Male, Age: ?
Collar/Tags: no tags
Lost on: 11/03/2012
Area: Westpoint Drive in Waterstone neighborhood off Lucasville road., Westpoint Dr., Hammonds Plains, NS
Additional Notes: I found this sweet little dog at my back door. He was invited in and was a sweet humble boy. I am home sick with chicken pox so unable to walk around the neighborhood to find a possible owner. I called HRM Animal Services and he is now staying at Homeward Bound City Pound. I am tempted to adopt him because he was adorable and I am sick and needed company 🙂 No one else can come near me! I hope he finds his way back home.
Please Contact: …