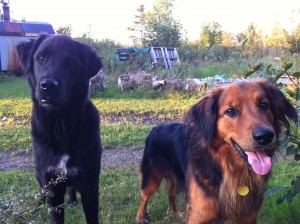 Brutus and King
HAPPY ENDING: Home, Safe n' Sound!! Yippee!! From the Owner: "My dogs returned home last night at about 8:00pm. Thank you so much! A lady called me at about 5:00 of their whereabouts, your program is helpful and it made me feel 100 times better knowing that they were okay till I could find them, again thank you! You are the best!" (10.9.12 – 10.10.12)
Breed or Mix: Brutus – Retriver mix King – Shep. Mix
Sex: Male, Age: 4 years
Collar/Tags: Brutus – Blue/white collar King – Orange with tags and microchipped
Lost on: 10/09/2012
Area:   Meadowvale Rd. , Upper Stewiacke, Colchester, NS
Additional Notes: Brutus is black with a white patch on his chest, with medium hair, and weighs about 90 lbs.
King is long haired with brown and black mix colors and weighs about 70 lbs.
Both are friendly, but if you are female, you would likely get up to them easier.
Please, keep your eyes out for them, I miss them greatly.
Please Contact: …