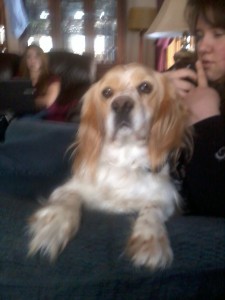 Ginger
HAPPY ENDING: Home, Safe n' Sound!! Yeah!! Ginger was found and picked up from the Kings SPCA. (10.6.12 – 10.6.12)
Breed or Mix: Spaniel mix
Sex: Female, Age: ~3-4 yrs.
Collar/Tags: Black collar with little flowers, KC Municipal tag and her name tag.
Lost on: 10/06/2012
Area: Prospect Rd. (English Moutain Road and Prospect), Casey's Corners/ Coldbrook, King's County, NS, NS
Additional Notes: Ginger is white and reddish brown markings. She is a brownish red halo circle on her head. She is friendly and loved other dogs and cats. Our family is missing her greatly and want to find her quickly. Thank you.
Please Contact: …