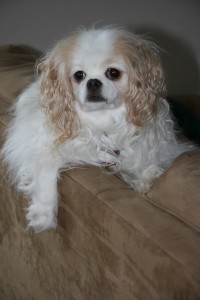 Eli
HAPPY ENDING: Home, Safe n' Sound!!! Yippee!!! From the Owner: "FOUND!!!!! Thanks to all my friends and wonderful neighbours. We wouldn't have found him without you."  Thanks to all who shared… yeah!! (10.17.12 – 10.20.12)
Breed or Mix: Spaniel, Teacup Poddle mix
Sex: Male, Age: 13
Collar/Tags: Burgundy coloured collar.
Lost on: 10/17/2012
Area: Les Colins Avenue, West Chezzetcook, Halifax, NS
Additional Notes: Eli is a long haired, white dog with blonde ears and markings. He is extremely shy and gentle, as well as deaf. Eli only weighs between 10 and 12 pounds. His coat is very silky. Eli was abused when he is was little and is still scared of people. He has never been outside by himself and must be so scared.
Please Contact: …