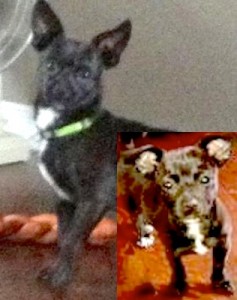 Bently
RAINBOW BRIDGE:  Sept. 19, 2012:  It's official, Bentley has been found and has passed away.   From the Owner: "We want to Thank everyone for all the help and support. We finally found his little body, a couple of young men hit him and tried to find his owners 🙁 at least now we know what happened 🙁 rip Bently, you were so loved ♥"  We are sorry to have had to put the owners through this confusion, however, it did lead to finding Bentley though, and we are very grateful to the folks that did all they could to make that happen.  Our sincere and heartfelt condolences go to Bentley's family.  (9.16.12 – 9.17.12)

UPDATE: September 19, 2012 – STILL MISSING:  Although it was reported here that Bentley had passed away, so far there is no evidence of this and the owners are still asking for our help.  Apparently, an unidentified woman reported him being dead on the road to the local vet, however, no contact info was left and there was no evidence of this in the location she suggested.  Could this person have picked up Bentley and just left a call into the Vets to get the owners off her trail?  Or if this is true about Bentley being hit by a car, would this person please come forward again and clarify so the owners may have some peace through resolution.  If anyone has noticed a neighbour, friend, or family member with a "new" dog matching Bentley's description, could they please follow through and find out more details.  This may be a matter for the RCMP to investigate.  Dogs are our Property in Canada and people can be prosecuted for stealing our pets.
Breed or Mix: CHIHUAHUA
Sex: Male, Age: ALMOST A YEAR OLD
Collar/Tags: HE IS SMALL BLACK – – WEARING A GREEN COLLAR.
Lost on: 09/16/2012
Area: NEWPORT CORNERS, HANTS COUNTY, NS
Additional Notes: BENTLY IS A SMALL BLACK CHIHUAHUA. LOST NEAR LYNCH ROAD IN NEWPORT CORNERS. HE IS SHY BUT FRIENDLY – LOVE TO PLAY. HE GETS VERY EXCITED. HE IS DEALY MISSED BY HIS OWNER'S. HE IS LOVED VERY MUCH.
Please Contact:  …