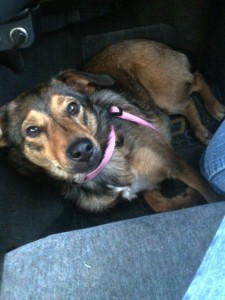 Brandi
HAPPY ENDING: Home, Safe n' Sound!! From the Owner: "My baby came back on her own! thank you everyone! :)" Thanks to all who cared and shared! (9.15.12 – 9.16.12)
Breed or Mix: she is a small collie/Shepard mix
Sex: Female, Age: year and a half
Collar/Tags: slipped out of collar
Lost on: 09/16/2012
Area: Lost in the area of the quarry on Broad Cove Rd. in the Culloden area, Broad Cove / Culloden Rd. area, Digby County, NS
Additional Notes: Brandi is a small dog who is very timid. She may or may not come when called. She is very friendly and is not known to bite but she does like to bark. She has not been with her owners for very long as she is a rescued dog.
She was with her owner while working at the location lost so she may still be in the Culloden/ Digby Neck area.
She is med brown, with some black on her, very short. She is loving if she will come to you and loves to be patted.
She is a short hair dog. She does not have a microchip that we know of and no tattoo.
Please Contact: …