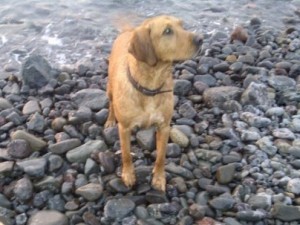 Schooner
HAPPY ENDING: Home, Safe n' Sound!! Yippee!! Schooner came home… yippee!! We are so sorry that our website wasn't working at this time and we weren't able to help the family, but are so pleased that there was a happy ending.
Breed or Mix: Golden Lab/Golden Retriever
Sex: Male, Age: 4
Collar/Tags: Wearing a green stripped bandana
Lost on: 06/30/2012
Area: Bent Rd. Waterville, NS, , Kings, NS
Additional Notes: Schooner ran at the sound of fireworks and has not yet returned. We have been told that he was spotted on Highway #1 in Waterville late last evening (June 30). He is a very friendly dog who loves attention from anyone and everyone. He will play fetch for hours and hours and listens to the commands 'sit,' 'lay down,' 'roll over' and 'shake.' If he is spotted please contact 902-690-5850 or e-mail at carys_jones_1@hotmail.com.
Please Contact: …