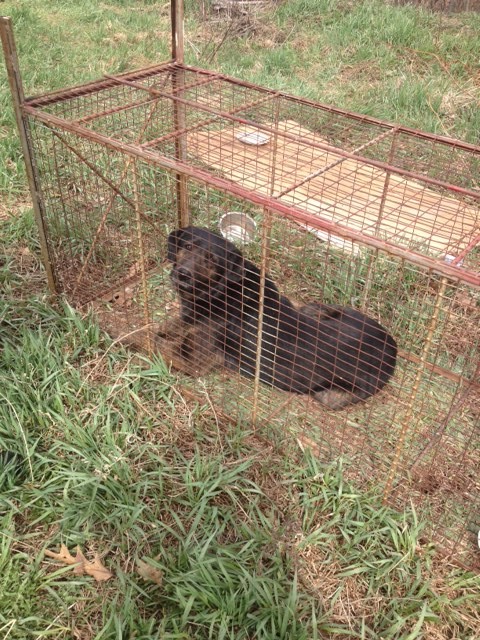 "Wren"
HAPPY ENDING: Safe n' Sound After Nearly A YEAR!!! WOW!! Wren, a lost dog almost forgotten by everyone except for Adele and Animal Control.  Adele worked for almost a year with Animal Control to catch Wren who had made a life for himself out on the dykes. It's just amazing that they finally caught this soft eyed boy … he's finally safe!
UPDATE: 6.9.12 – We received this sighting of hopefully Wren: "We saw this dog on June 9th on the dykes behind Greenwich. He was lying down in long grass, hiding. As we tried to approach he ran away, terrified. Last we saw him he ran west, across the road to Port Williams and into the treed area down below Noggins Farm Market. He is very thin and skitterish."
Breed or Mix: Black Lab/Rottie
Sex: Male, Age: 3 years
Collar/Tags: Red Collar, Poker Cards on it, no tags yet
Lost on: 05/04/2012
Area: On the Dykes, New Minas, Kings, NS
Additional Notes: This morning my dog took off, I just got him last night & when we opened the door this morning he bolted off before we could get the leash on him. He is black with dark brown legs, his name is Wren & from what I've seen he knows it. He was last seen down by the old Horton school just outside New Minas, I was told he looks very scared, but he's verry friendly. You can try and get him to come to you, he really likes food. He's underweight as he has a bad allergy to fleas & I need him to come home so I can get him treated.
Please Contact: …